[et_pb_section bb_built="1″ _builder_version="3.0.47″ custom_padding="0px|0px|35px|0px"][et_pb_row _builder_version="3.0.47″ background_size="initial" background_position="top_left" background_repeat="repeat"][et_pb_column type="4_4″][et_pb_text _builder_version="3.0.47″ background_size="initial" background_position="top_left" background_repeat="repeat"]
During the planning phase of a Disney World trip, you have to make decisions about what park tickets to buy, where to eat, and what activities to do. More than all of that, my favorite part of planning is choosing which Disney Resort Hotel to book for my stay. Thinking about where you will be laying your head down each night is an important factor to consider.
As of 2017, there are more than 25 different hotels on their property, in particular variations. They are put into 4 categories: Value, Moderate, Deluxe, and DVC/Home Away From Home Resorts (although the last category is technically part of Deluxe resorts). For this article, we are going to concentrate on Disney Deluxe Resorts.
I really feel completely immersed in the Disney magic when visiting a Disney Deluxe Resort. Disney really goes above and beyond in the design of these hotels. The Deluxe hotels are the ones you see in the Disney commercials where families walk through the lobbies acting excited and happy. Currently, there are 8 Disney Deluxe Resorts on property, with the newest one opened in 2009.
While all of the Deluxe hotels are the cream of the crop on the Disney Resort, it is pretty much agreed that a few are regarded at "the best." So which of these hotels are considered the *best Disney Deluxe Resort? I'll give 3 contenders below:
*Note: This list is based on my opinion and previous experiences at these hotels.
3. Animal Kingdom Lodge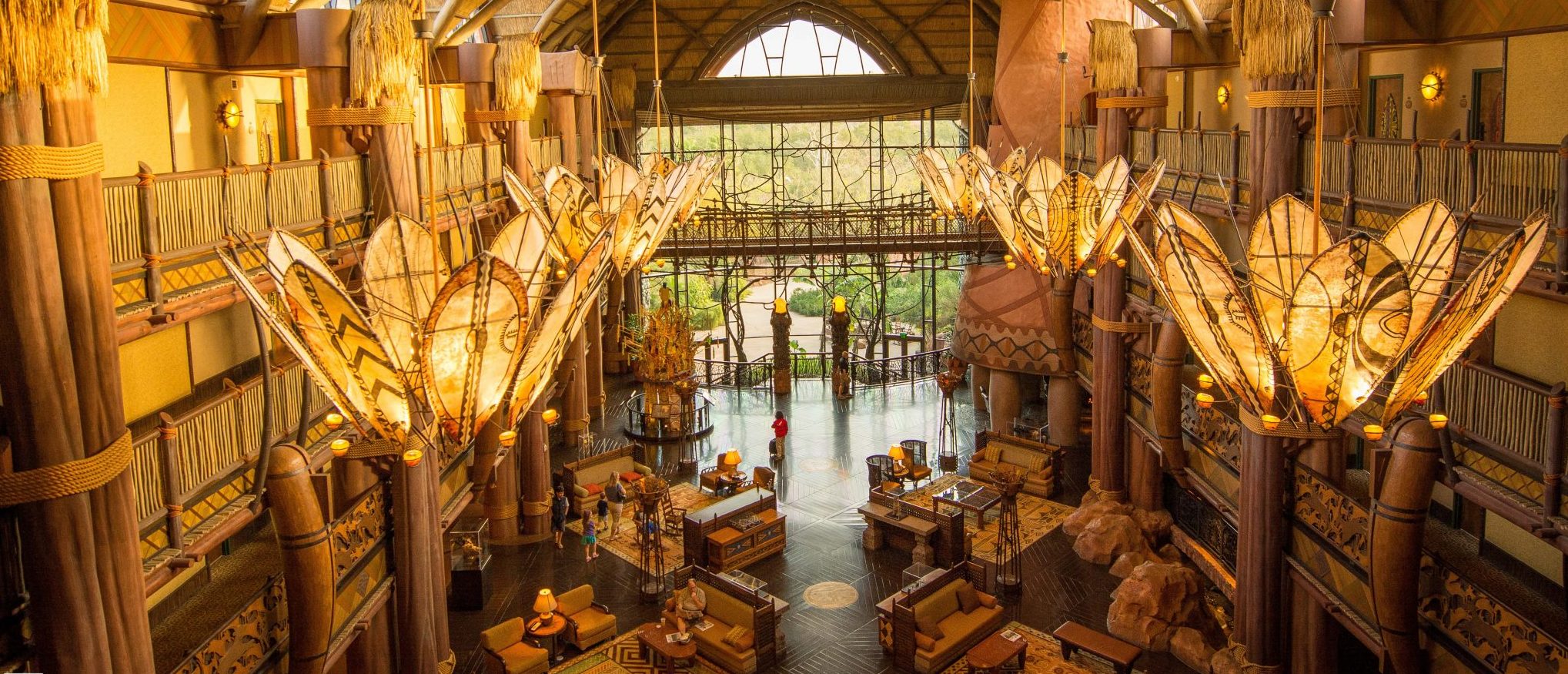 This resort is the newest Deluxe from Disney. The company saw a need for more resorts located near Animal Kingdom, as well as one that felt like an extension of the park. So Animal Kingdom Lodge was built in close proximity to Animal Kingdom.
AKL is divided into 2 "houses" – Jambo House and Kidani Village. Each house has their own separate lobbies and check in areas, recreation areas, pools, bus stops, and restaurants. But they do share something…the savannah! The savannah that feeds into the resort area is the biggest draw for AKL. With a savannah view room, you can many native African animals roaming nearby. It is such a cool experience to be able to walk out onto your balcony and see a giraffe eating some leaves or a zebra taking a nap.
Another draw to the resort is the Jambo House lobby. The design and architecture are very authentic to African culture. The colors, type of wood, and lighting used makes you feel you are visiting a completely different world.

2. The Polynesian Village Resort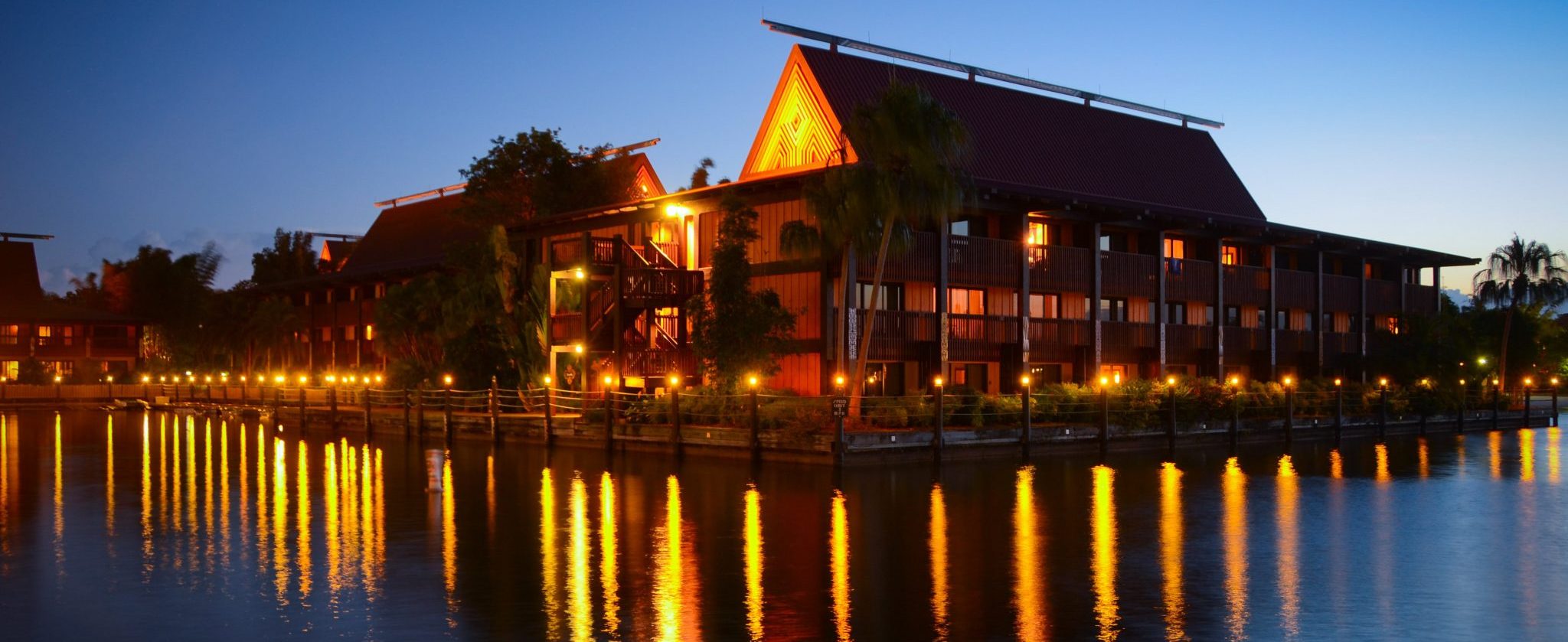 On the other end of the spectrum, "The Poly" is the oldest resort on Disney property. The nostalgia of the design is part of its charm. It is decorated in a South Pacific theme, matching the tone of Adventureland in the Magic Kingdom. I would consider it to be classic Disney, even though it was just recently renovated.
With the renovation came new restaurants and bars, and also the uber grand Bungalows. These bungalows are located just off the shore and all have a premium view of CInderella's Castle at the Magic Kingdom. This is an excellent place to be able to watch fireworks over the castle. But be sure to have your credit card ready because these bungalows are EXPENSIVE.
Back inside, you'll find very popular restaurants like Ohana and Kona Cafe. Trader Sam's is a new addition that boasts creative food and drinks, as well as a Tiki type of atmosphere. It's fairly hard to get in or find a seat because it's always crowded.
Another great perk about The Poly is its proximity to a few things. It is one of three resorts closest to the Magic Kingdom. You can take the monorail right outside the lobby to the park in just a few minutes. And if you need to head to the Ticket and Transportation Center, it's only a short walk from the lobby.
1. The Grand Floridian Resort & Spa
Ah, The Grand, Disney's flagship resort. If you were ever a fan of ABC TV shows, the characters always stay at The Grand Floridian during their stay at Disney World. I personally have never stayed there, but I've visited many times and LOVE walking through that resort. The design is taken straight from the historical Del Coronado hotel in California. The Victorian era style brings an elegance that no other Disney hotel can match.
The restaurants draw people to the hotel. You'll find quick service, table service, and fine dining options. The signature dining restaurant is Victoria & Albert's, Disney's most expensive and only 5 diamond option. This is the one restaurant on property with a strict dress code, so you would need to plan this meal in advance – no shorts and flip flops allowed.
The special Disney service is very apparent at The Grand. Being their top resort, Disney makes sure that the guest receive the highest standard of service from all of their cast members. And talking with any cast member at this resort will show you that this is true. They almost try to make you feel like royalty. You'll also feel like a king and queen while viewing fireworks at Magic Kingdom from the white sand beach at the resort by Bay Lake
And a bonus perk – The Grand has a spa! Senses Spa offers a plethora of relaxing and rejuvenating experiences. Just a warning; you're going to probably spend at least $100 for one service, so be prepared to drop some dough.
In my opinion, Disney-owned hotels are a different breed of lodging than other hotels off property. You'll find so much creativity and imagination in the design of these hotels. The important thing to remember is that all Deluxe Disney hotels are spectacular in their own way and no matter which one you choose, I'm sure you'll really enjoy your stay.
Stay At A Deluxe Resort For Up To 50% Off
You may read that headline and think it's just clickbait but it's actually true! You can save up to 50% off when staying at a deluxe resort by renting points from Disney Vacation Club members. We have done this numerous times on our trips and is a great way to stay at some of the greatest resorts in the world at an unbeatable price. There are a few ways to do this but the safest and easiest way to do it is to rent points through David's Vacation Club Rentals. They have been doing this for over 15 years, have a 100% customer satisfaction guarantee and we have personally used them many times, each time everything went smooth and was easy. If you're at all curious you should head on over and chat with their friendly support staff. Check them out!
You can also see our review of the best Disney moderate resorts if you're interested.
[/et_pb_text][/et_pb_column][/et_pb_row][/et_pb_section][et_pb_section bb_built="1″ custom_padding="0px|0px|0px|0px" _builder_version="3.0.47″ global_module="29389″][et_pb_row global_parent="29389″ custom_padding="35px|0px|0px|0px" _builder_version="3.0.47″ background_size="initial" background_position="top_left" background_repeat="repeat"][et_pb_column type="4_4″][et_pb_testimonial global_parent="29389″ portrait_url="https://capturethemagicapparel.com/wp-content/uploads/2017/07/Jamie-Lee.jpg" quote_icon="off" background_layout="light" _builder_version="3.0.64″ custom_padding="||0px|" url_new_window="off" use_background_color="on" quote_icon_background_color="#f5f5f5″ text_orientation="left" border_style="solid"]
By Jamie Lee
Jamie is a lifelong Disney fanatic that has been going to Disney parks since she was a child. She is the head writer here at Capture The Magic & co-host of the Capture The Magic Podcast. When she isn't planning her next Disney vacation, she can be found helping people plan their own Disney vacations and enjoying quality time with her family.
[/et_pb_testimonial][/et_pb_column][/et_pb_row][/et_pb_section][et_pb_section bb_built="1″ custom_padding="0px|0px|40px|0px" _builder_version="3.0.47″ saved_tabs="all" global_module="29281″][et_pb_row global_parent="29281″ custom_padding="37px|0px|37px|0px" _builder_version="3.0.64″ background_image="https://capturethemagicapparel.com/wp-content/uploads/2017/07/Untitled-design-13-min.png" background_position="top_center"][et_pb_column type="4_4″][et_pb_image global_parent="29281″ src="https://capturethemagicapparel.com/wp-content/uploads/2017/07/CTM-White-Logo.png" align="center" max_width="250px" _builder_version="3.0.64″ /][et_pb_text global_parent="29281″ background_layout="dark" text_orientation="center" _builder_version="3.0.64″ text_font="|on|||" text_font_size="16px" header_font="||||" custom_margin="|||" custom_padding="|40px||40px"]
Disney News, Rumors, Trip Planning & More!
If you love Disney World then you will love our new podcast where we discuss all things Disney. Whether you are planning a trip and/or wanting to stay up on the latest Disney news & rumors we've got you covered
[/et_pb_text][et_pb_button global_parent="29281″ button_url="https://itunes.apple.com/us/podcast/capture-the-magic-podcast/id1255052408″ url_new_window="on" button_text="Listen Now" button_alignment="center" _builder_version="3.0.64″ custom_button="on" button_text_size="23px" button_text_color="#ffffff" button_bg_color="rgba(68,217,230,0.47)" button_border_color="#ffffff" button_border_radius="3px" button_font="|on||on|" button_icon="%%89%%" background_color="#44d9e6″ /][/et_pb_column][/et_pb_row][/et_pb_section]